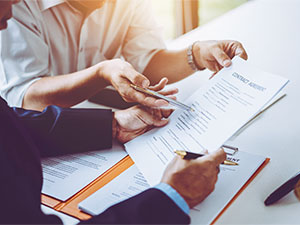 Once you've gone through the work of finding the perfect IT consultant, make sure you don't throw all your hard work down the drain by not securing a clear, concise, win-win contract.
It's your best defense against being ripped off and disappointed. It also helps both sides completely understand what is expected, how the work will be done and your acceptable standards. In some instances, it makes sense to have a qualified attorney review your contracts; however, this post will outline some of the basics to include in your contract to make sure you get what you want.
In general, the more detailed the contract is, the better it is for both sides. Don't be afraid of lengthy contracts that spell everything out in specific detail, but do be cautious of contracts you don't understand.
Once you've decided on a consultant, ask to meet so that you can both go over every detail verbally. It's a good idea to prepare for this meeting by outlining your expectations and conditions of satisfaction for the work to be done. The clearer you are on what you want and how you want the work performed, the better your chances are of getting it done right. You should also ask your consultant to bring a copy of the original proposal or quote, as well as a list of deliverables, deadlines, guarantees and other policies and procedures.
Here are a few of the things to make sure you review before signing.
Warranties And Guarantees
Payment Terms
Project Timeline And Completion Date
Changes, Modifications And "Scope Creep"
In my book, I go into details on what you should be on the lookout for in contracts for these items and more.  Make sure you get the full scoop before signing anything.  You can purchase the book here: https://www.creativeresources.net/up_in_smoke/