iPad Hospital Donation!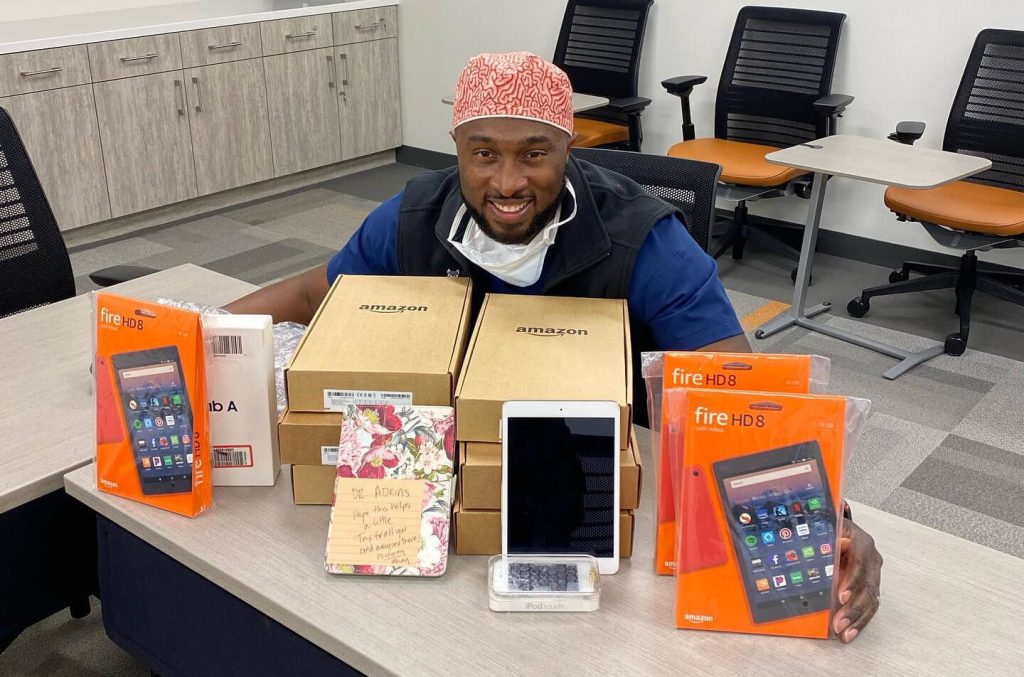 Thank you for your interest in donating to CHOC Hospital. CRTG is proud to partner with Dr. Tony Adkins, "The Amazing Dancing Doctor" and his team, to provide used iPads and tablets to families in need. Dr. Adkins is a Certified Physician Assistant in Pediatric Neurosurgery who has become an internationally recognized provider that connects with patients and families with his unique ways. With his combined 2 million followers across all social media platforms, he is best known for his viral videos dancing with his little patients.
His philosophy on treating patients is to individualize each patient and family on the best practice rooted in a recovery model.
CRTG felt the call to action when Covid-19 arose and many family members were not allowed to visit loved ones who were in the hospital. Dr. Adkins made the announcement that he was collecting digital equipment to serve these patients and families. CRTG is stepping forward to provide help with his crusade. Our expertise in refurbishing and troubleshooting the devices will ensure that CHOC will be receiving products that will bring smiles and joy by keeping families connected. To that end, Dr. Adkins made this announcement pleading for this most important endeavor.
"Out of desperate need, I would like to raise 150 iPAD/TABLETS WITH CHARGERS for the Saint Joseph's Hospital ICU/Medicine floor in Orange County California. These doctors say the COVID patients are very isolated and lonely since families cannot visit them, and many of these patients are lower income and cannot afford the devices. These devices will allow patients to stay connected with their families while in the hospital, and in harder times, will allow families to say good-bye to their loved ones before they die. I can't imagine having someone die alone without family nearby, but it happens on these occasions since families are not allowed to be inside an isolation ward."
iPads and tablets do not have to be new.
They Must have WIFI capability and at least these minimum requirements:
𝐢𝐏𝐚𝐝 𝟐 𝐨𝐫 𝐥𝐚𝐭𝐞𝐫, 𝐢𝐏𝐚𝐝 𝐌𝐢𝐧𝐢, 𝐢𝐏𝐚𝐝 𝐏𝐫𝐨, 𝐢𝐏𝐡𝐨𝐧𝐞 𝟒 𝐨𝐫 𝐥𝐚𝐭𝐞𝐫, 𝐢𝐏𝐨𝐝 𝐭𝐨𝐮𝐜𝐡 𝟒𝐭𝐡 𝐠𝐞𝐧𝐞𝐫𝐚𝐭𝐢𝐨𝐧,
𝐢𝐏𝐚𝐝 𝐎𝐒 𝟏𝟑 𝐨𝐫 𝐥𝐚𝐭𝐞𝐫, 𝐀𝐧𝐝𝐫𝐨𝐢𝐝 𝟒.𝟎𝐱 𝐨𝐫 𝐥𝐚𝐭𝐞𝐫, 𝐊𝐢𝐧𝐝𝐥𝐞 𝐅𝐢𝐫𝐞 𝐇𝐃